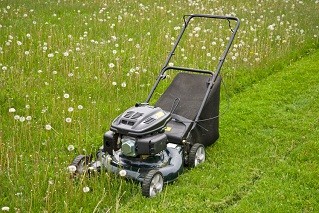 Resist the Urge to Feed Lawn Clippings to Horses
Ah…spring! The weather is getting warmer and your lawn is a beautiful, green carpet. At this time of the year, you have to mow the lawn at least once a week, sometimes more frequently, and you generate an immense pile of grass clippings with every cutting. You think – wouldn't those nice, green, sweet smelling clippings be a wonderful treat for your horse? He eats grass, so why wouldn't they be good for him? Therefore, when the lawnmower bag is full, you head down to the barn to spoil your horse with a delicious indulgence.
Stop! Before you dump those bags of clippings into a pile at the barn for your horse to eat, consider the dangers that it poses. Grass clippings are the last thing you want to feed to your horse.